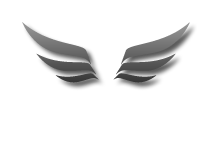 Primary tagline goes here!

Easy-Data Microburner
Introduction
Silentnight Microburner was first time released in 2004. This application has a few features that makes it pretty special. First it is very small. Just one single exe file and no need for any dll s or other files. This also makes it extremely portable. Besides this the application is filled with options. Burn CD or DVD, Duplicate CD and DVD, create audio cd' s. Create ISO files and burn them to media. Create covers or be a little carefully and take backup of your important data. It is all possible with this tool, and yet we give it away for free. WHY?
Several reasons for this. First and foremost is the fact that we are going to release a completely new Microburner. This time with the name Easy-Data Microburner. But since it is build on the actual Microburner it will be released as version 7.0. The absolute largest change will be that the 7.0 version has inbuilt support for ripping dvd movies. Even if this forces me to go away from the single exe file it still will be quite portable. There will still not be needed an installation package.
Ok back to the money talk. Last time i was active as programmer on the web it was much more serious than today. The reason for the new web pages and tools is not to make money, it is actually just for the fun of it. That said, I do really hope my applications does well against similar products out there. And i do work to try to get a decent number of visitors to my web pages so i could make a little money doing adverticing on my web site. Not to get rich or something, just to be able to create more tools and applications that people want and need. As i said, I do this for fun. But it aint so much fun if i have to pay a lot of money just to give others everything for free. So this is why i have arranged with the donation options and also why i am going to place adds on my site.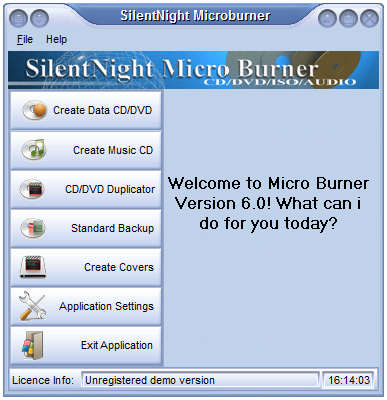 Spesifications:

No DLL/ActiveX needed.
Own ASPI Layer for Windows NT, Windows 2000, Windows XP , Windows VISTA and Windows 7
Supports CD-ROM BD-RE/ BD-R / HD DVD-R / CD-R / CD-RW / DVD-ROM / DVD-R / DVD-RAM / DVD-RW / DVD+RW / DVD+R / DDCD-ROM / DDCD-R / DDCD-RW.
Supports High Definition Medias (included Blu-Ray and HD-DVD)
Direct burning; no need to create ISO file first. No temporary files.
Create ISO (100% DOS/Windows) compatible Data CDs / DVDs.
Create 100% UDF compatible Data CDs / DVDs.
Burn on several drives at once. *
Real Unicode file name support.
DBCS and MBCS support.
Supports Long filenames ( Joliet ) File System.
Burn and create ISO Images.
Create Multi-session CD
Import any prvious sessions.
Write on rewritable CDs/DVDs.
Testet with SCSI, IDE/EIDE and USB CD/DVD Burners.
All Windows versions (exept Windows 3.xx) supported.
High Performance File/Disk Caching.
Bootable CD/DVD support.
DAO*, SAO* og TAO Burn methods supported.
Direct burning of wave, mp3 files.
Supported out formats: WMA, OGG, MP3(VBR) and WAV (CD Ripper)
FreeDB 2.0 support. (CD Ripper)
ID3 Tag Support (CD Ripper)
CSS Dekryptering (DVD Duplisering) NB! Only Norwegian version.
The Tools
Below you can take a look at the different tools inside this burner software.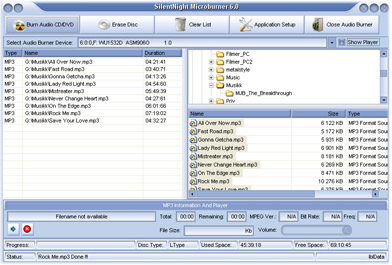 This is the Audio burner part.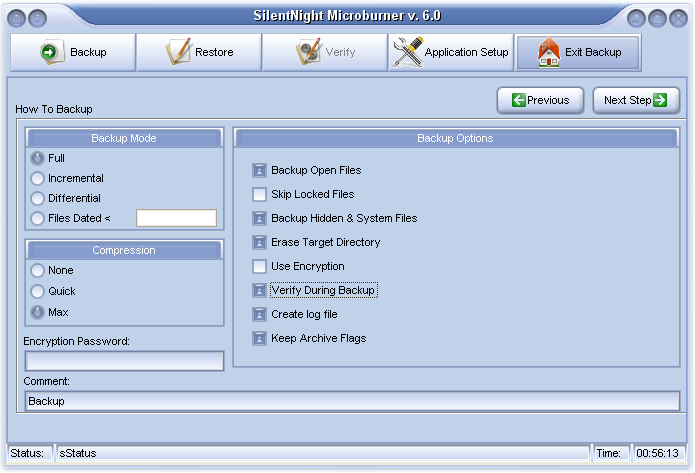 This is one of the parts of the backup tool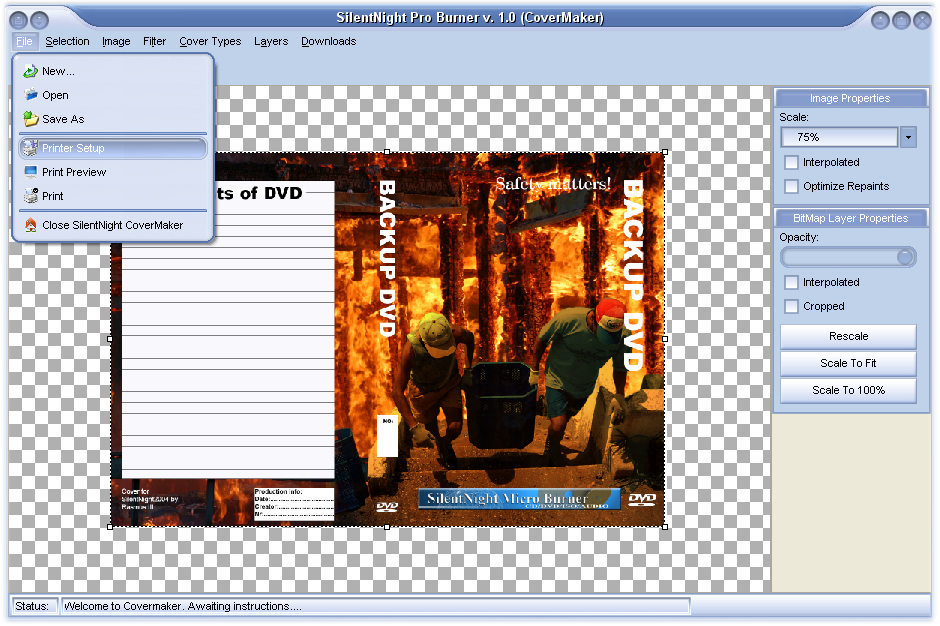 This is the Cover creator part.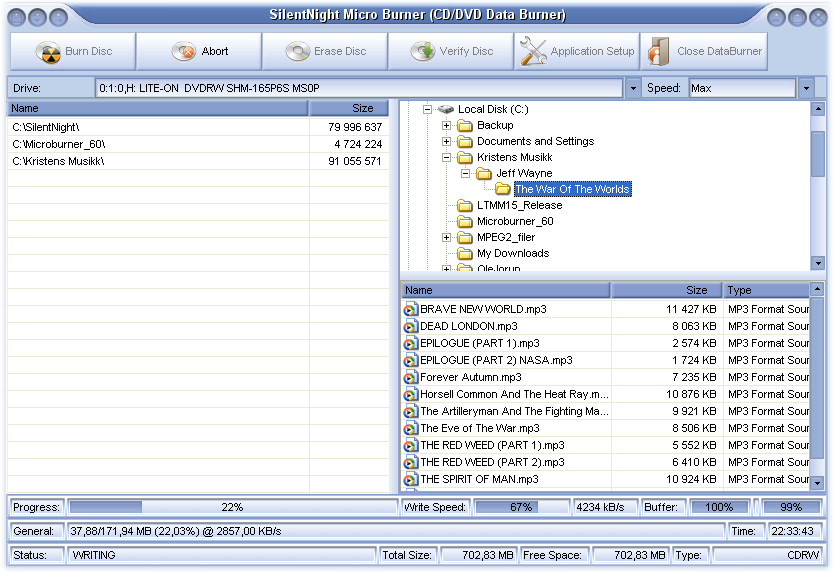 This is the main data burning window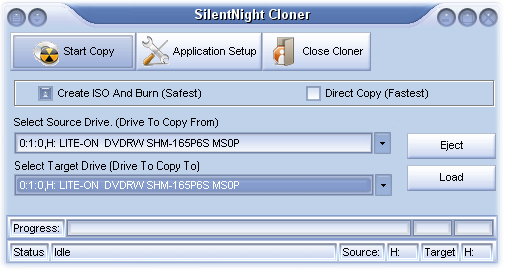 And this is the duplicate tool.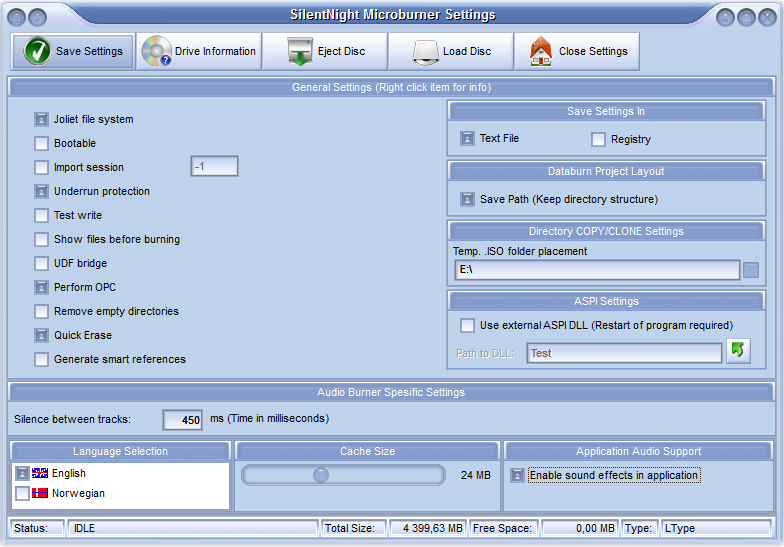 This is the settings window of the burner.
The SilentNight Microburner is quite easy in use, and besides beeing very fast it also is stable as a rock. As mentioned before the burner is now completely freeware. When you download the microburner.rar file you get two files. the microburner itself, and a license file. The license file needs to be in the same folder you put the burner to work. Some users may have to start the application twice to get it registered. You can download it from here.